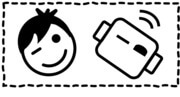 Children, Robots, and Virtual Agents- Present and Future Challenges
We encourage participants to submit their research work related to the field of child-agent and child-robot interaction including but not limited to the following topics:
Design and deployment challenges.
Adapting to the «new normal».
Experiments involving children and agents.
Challenges of safe child-agent interaction.
Children's involvement in design and development.
Children's perception (measuring, evaluating, and interpreting).
Expectations for future interactions.
The impact of the agents on children's cognitive development.
Ethical Concern.
Смотреть похожие мероприятия